Hello, Compass Travelers!
Here at Compass Travel, planning unique travel experiences for our clients is what we do best. We take the time to learn what you want, then provide options to help you get the most out of your time away. We could tell you all about our services, but we think it's better for you to hear what some of our travelers have to say directly. Here is a note from a family we sent to Costa Rica on a tour with Trafalgar Tours a couple of months ago:
A Letter to Compass Travel Agent Wendy:
Our vacation was AWESOME. We had so much fun. All of our travels went smoothly. Our tour director, German Rojas, was great. It was the perfect combination of activities and relaxation—we had so many interesting things to do. Our tour group included 22 people. Traveling by bus, we saw many different parts of the country; rest stops and attractions along the way helped break up the driving.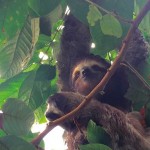 The girls' favorite part was Tortuguero, where we took boat rides into the rain forest. We saw a wide variety of animals including sloths, crocodiles, monkeys, otters, turtles, iguanas, king fishers, toucans, and every imaginable bird, flower, and butterfly. We visited an organic pineapple plantation (delicious), stopped at a farm where we watched how hearts of palm were harvested and then tasted them in homemade tortillas cooked over an open fire, drank coconut milk and visited with a very kind and gracious couple who opened their home to us.
We visited the Arenal Volcano, walked through the rain forest on suspension bridges hundreds of feet above the ground, went zip lining (thrilling), went to a breathtakingly beautiful beach and swam in the Pacific Ocean, filmed the monkeys frolicking in the forest, visited small towns along the way, enjoyed beautiful countryside, shopped for souvenirs, sampled all kinds of delicious foods and all in all had a terrific time.
A special treat on the tour was a New Year's Eve Party at our hotel with dinner, entertainment, and fireworks. We would highly recommend Trafalgar Tours! Thanks so much for all of your help and hard work in arranging this trip for us. We are most certainly satisfied customers!
Jeannie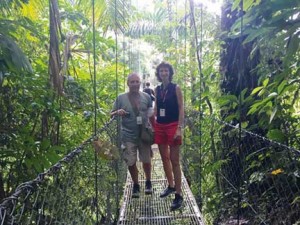 Walking high atop the rain forest–an adventure of a lifetime!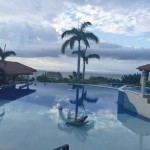 Please contact Wendy to book this trip for your own family, or choose from a number of itineraries to Costa Rica for families or for couples!