Dear Compass Travelers,
Today, I share a travelogue from Compass traveler Lois Watts who joined us on our Western adventure to America's Canyonlands this Fall. Enjoy!
– Lois Watts
On September 19, a merry band of 18 travelers, hosted by Compass Travel, left the ordered world of New England behind for a 10-day tour of another world: America's Canyonlands—ancient, primeval, surreal, untouched by time and civilization.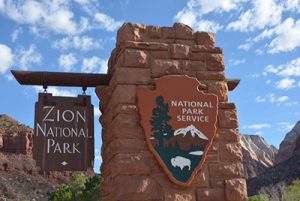 Our first stop was Utah, where we met up with Jennie, our fantastic tour guide and "Happy Max," our bus driver. We began our visit in Zion National Park, a world of towering red stone cliffs that surrounded us as we set off on a hike. No words or photographs can begin to capture what rain, wind, time and the Colorado River shaped over millions of years. Suddenly, we felt reduced in size and significance entering these giant red canyon cliffs of Zion. Some of us took the difficult trails, others the easy trails with our guides. We all felt the awesomeness of this towering world that enveloped us.
Evenings we stopped to check into our hotel, the bus bursting with cheers when Holly announced, "There's a bar in the hotel!"
Next was Bryce Canyon, a vast series of amphitheaters that unfolded ad infinitum with dazzling colors of red, pink, lavender, and orange stone shapes called "hoodoos" created by nature through the millennium. The hoodoos rose from the plateau in all shapes and sizes as if a giant had been playing in the sand. Some were shaped like castles or cathedrals, all otherworldly as the mind struggled to take in the size, shapes, and colors. There are no words to describe the majesty of this natural phenomenon created by wind, ice, and rain, eroding into fantastic shapes as far as the eye can see.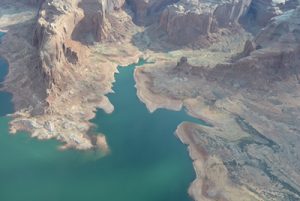 We then boarded small eight-passenger planes and flew over Monument Valley, the ancestral and mysterious homeland of Navajo Indians. Upon landing, we traveled by jeep with our Navajo guide along the dusty roads through the valley. Stark red stone pillars of all shapes arose throughout the desert, standing as high as 400 feet, sentinels standing guard over this land. To the Navajos who live here, this is a sacred land, rich in the ancient traditions of their ancestors, carried on to this day.
Back on the bus, we drove to the Museum of Northern Arizona, which houses pottery, jewelry, basketry, rugs, and weaving representing the Navajo, Hopi, and Zuni cultures.
The Grand Canyon is a place unto itself, stretching 277 miles long, 18-20 miles wide and 18 miles deep. The surrounding rim has many viewpoints, each presenting a unique perspective of the whole. Civilization comes close here with many hotels and lodges located near the rim. Imagine sitting on the porch of the lodge sipping a drink as the sun moves across the massive canyons turning them red, then purple, then green and then orange. An experience to savor; a moment where civilization and ancient canyons meet.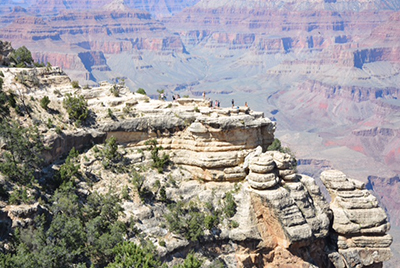 We then began our downward trek from almost 8,000 feet, the Colorado Plateau, to our destination in Sedona, with a stop in Flagstaff for lunch along the way. Jennie said we might "feel the vortex here" and, while I never felt it, Sedona was a positively beautiful town situated in a pocket with red cliffs surrounding and protecting.
By the last day, we were all getting a bit tired and the bus had grown quieter until it was announced that our hotel had a bar. Then the cheers erupted from the back of the bus as the merry band of travelers capped off their days with a cool one. What a fun, friendly, traveling group.
Here's to Compass Travel for organizing this unforgettable trip!
For more photos, click here.