Dear Compass Travelers,
"Italy is a dream that keeps returning for the rest of your life."
Anna Akhmatova
Nothing could be truer than this beautiful depiction of a country that is so near and dear to my heart. From the northern landscapes kissing the Alps to the famed vineyards and olive groves to the spectacular islands off its southern shores, Italy and the beautiful Italian people wind their way into your heart and never leave. I have shared this idyllic place with many of my Compass Travelers, and I will continue to do so in the coming years.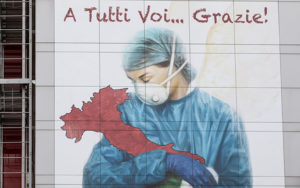 But now, when the world is hurting, I want to pay special tribute to a country that has been hit especially hard by this horrific global pandemic. I want the people of this land to know how genuinely they are loved and cared for in our hearts and minds. We will return to celebrate life and beauty, shared history and future adventures. Until then, know that you are not alone and that you are loved.
Some of the trips to Italy we have taken with our clients include:
Slovenia, Venice & Lago Maggiore – May 2019
Tuscany & Umbria – September 2016
Piemonte – September 2013
Meet Your Muse on Lago Maggiore – May 2011
Splendors of Sicily – September 2011
The Romantic Amalfi Coast – May 2010
Venice & the Enchanting Italian Lakes – May 2007
Under the Tuscan Skies – May 2005
Please visit our gallery for a slide show of highlights.
Ciao!
Holly Walker