Dear Compass Travelers:
We at Compass hope you are all safe and healthy. Dreams of travel are interspersed with news of Covid ebbing and flowing around the world. Traveling is still now what it used to be—but there are places that are safe and amazing and deserve some attention. One such place is Iceland. Two of our intrepid travelers share their experiences of this beautiful volcanic island nation:
From Our Recent Travelers to Iceland:
Holly Walker at Compass Travel arranged a once-in-a-lifetime adventure for us in  Iceland. To our pleasant surprise, Iceland is easier to get to than San Francisco, Seattle, or Los Angeles—a short 4½ hour plane trip from Boston. The other pleasant surprise is that everyone speaks English. They have handled Covid brilliantly; at the time of our visit, 85% of the population was fully vaccinated.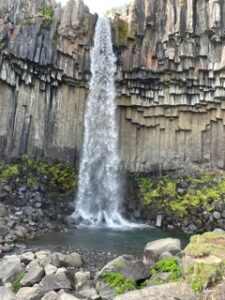 With the help of a knowledgeable and theatrical guide, Stefan, and his versatile Sprinter van, we toured the island's southern end: waterfalls, glaciers, volcanic lava flows, and geysers were the highlights. We started in the capital and largest city—Reykjavik; the downtown district is manageable by foot with lots of places to eat and drink. Visiting the National Museum prior to our tour helped us understand the historical and cultural sights we visited.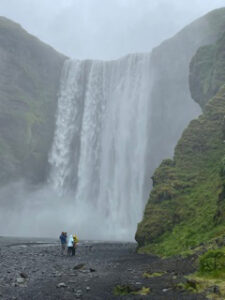 Iceland is a geologist's paradise. It is home to four glaciers, one active volcano, geysers, icebergs, and miles and miles of lava fields. Our group did not include a geologist, but fortunately, our guide, Stefan, explained the terrain and history of eruptions. One of the high points for us was visiting an active volcano and seeing the immense lava field. Iceland expects people to act responsibly, so there is unlimited access to the volcano and most of their natural wonders.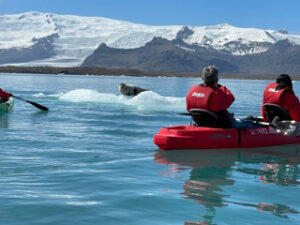 Holly suggested we kayak in a gorgeous lagoon at Iceland's most extensive glacier base—a truly unique experience! The food was excellent, and the accommodations tended towards a Scandinavian design. The country runs off geothermal activity so once inside, staying warm is easy.
We focused our week on the southern part of the island rather than trying to take the ring road around the island. While it's possible to circumnavigate the country by car in a week, having the time to really explore the south was more enjoyable. It is a special place, one we look forward to exploring further.
John and Sarah, Compass Travelers
Here are some fun videos to watch!
Magnificent Waterfalls!
Iceland is full of surprises!
~ ~ ~ ~ ~ ~ ~ ~ ~ ~ ~ ~ ~ ~
Thank you all, for your loyal patronage to Compass Travel. We appreciate your business.
We are keeping up on all the latest travel news, so don't hesitate to call
if you are feeling wanderlust and need some advice on where to go.  Holly