My dear friend Tomie dePaola passed away this spring. Like many of his friends, family, and fans, I have spent a good deal of time remembering all that he meant to me, to my travelers, and to the world at large. I wanted to share some of those memories with my Compass Travelers because Tomie took us all on some fantastic adventures, both in real life and through his wonderful art and stories.
Tomie came into my life many years ago as a client and fortunately, our professional relationship evolved into a long, personal friendship. He was incredibly talented, laughed a lot, and enjoyed life to the fullest. Parties at his beautiful home in New London were legendary.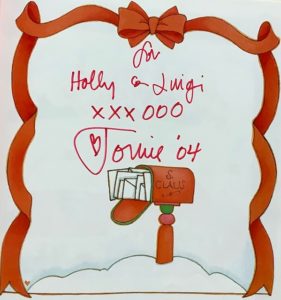 In his Christmas book Guess Who's Coming to Santa's for Dinner?, which debuted in 2004, Tomie honored Luigi and me with a dedication in the book giving us credit for the inspiration for that story. I will always treasure that!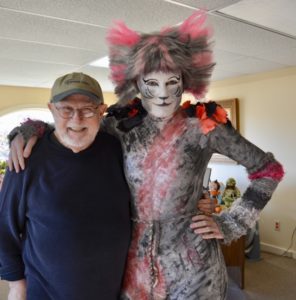 And, speaking about holidays, Tomie loved to visit Compass Travel on Halloween, a day that I take very seriously! Tomie always stopped in at the office for photo ops and festivities!
But my fondest memories of Tomie center around the three trips my husband Luigi and I escorted with him—Mexico's Colonial Cities in 2002, Provence, France in 2006, and Santa Fe, New Mexico in 2015. There was nothing like having Tomie on a trip to squeeze every ounce of enjoyment out of all we were seeing and doing.
As an incredible artist and collector of international folk art, he was totally in his element on the Santa Fe trip as we visited numerous museums and art galleries. But one of the lasting memories on that trip had nothing to do with art or museums.
One day as Tomie was standing talking to me in our hotel, his pants belt broke. For someone for whom a belt was not just a decorative accessory, this was a serious "wardrobe malfunction"! I quickly stepped in front of him to protect his vanity and we eventually found him a new belt. With many laughs and that jolly smile of his, this incident would provide Tomie with a story he loved to tell, with a bit of embellishment, over and over in the following years—as his assistant Bob Hechtel can attest to.
And speaking of Tomie's saint-assistant Bob, thank you for keeping the home fires burning, which allowed Tomie to globe-trot with us. Very sadly, Tomie left this earth on March 30—I'd like to think he's adding his special brushstroke to some of those heavenly stars.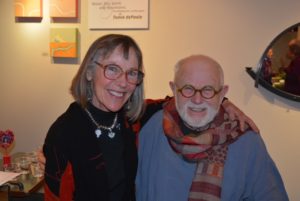 Artist and friend Nancy Begin pictured here with Tomie on our trip to Santa Fe. Her husband wrote this when he heard of Tomie's passing:
"Art is an expression of the mind and heart. Nancy and Tomie shared a love of "whimsy" – characters that bloomed somehow and somewhere from within.  They made you laugh, oozed joy, and sparked dreams.  What could be better?"
To view our Tribute to Tomie, click here.